Angie's new book
It's called "My List, My Rules."
Angie
I wrote a book called My List, My Rules. It's a slice-of-life memoir about doing 101 different things over a year and what I learned. I'm releasing it this month.
It's been a long time coming—almost a decade.
When I started doing my list of challenges, the idea of turning it into a book never entered my mind. It wasn't until a year later when a friend suggested the idea, that I even considered it. And even then, writing out all the stories took a while.
A few years ago, after I finished my part of Shepherd's Call, I still wanted to write something, so it was an opportunity to focus on this project.
It felt weird to work on something on my own. It almost felt like I was cheating on my writing partner. Yet, working with David and writing the Shepherd & Wolfe series, I knew where to begin and that I could rely on Heather and her team from Your Nickel's Worth Publishing to help bring it to life.
Of course, my worries about doing it without David were my own. He was super happy for me when I brought an early copy over to his house to celebrate. (I think it was for the book, but it might've also been because of the doughnuts I brought him.)
I also gave him a paragraph in the acknowledgments dedicated entirely to him. He's impacted me significantly as a writer and taught me much more than I can squeeze into this newsletter.
I hope you can buy My List, My Rules and enjoy it as much as I loved writing it.
---
David
I'm proud of Angie. Making a book is a lot of work: coming up with the idea, getting it on the page, rewriting it and rewriting it and rewriting it, then publishing and marketing it.
But Angie has come so far as a writer over the years. I saw an early draft of a chapter years ago, and looking at her finished book, her storytelling and craft have grown so much.
I know she complimented me above, and her words were kind, but this is all her. She gave the sweat (and possible tears) to make it happen—along with the wonderful help of Heather and her team.
In the end, I'm happy to be a part of her journey—not just because she brought me delicious doughnuts—and I really hope all of you support her, buy her book, and tell your family and friends to buy it.
---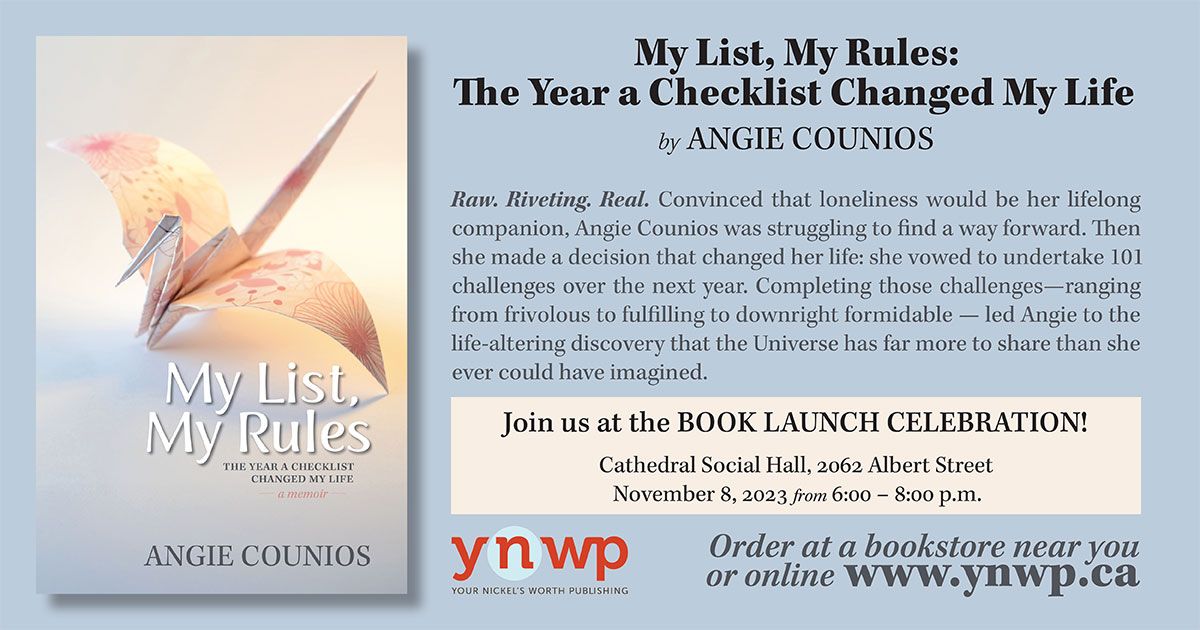 Counios & Gane Newsletter
Join the newsletter to receive the latest updates in your inbox.
Comments