Same...and new!
A new edition of Along Comes a Wolfe brings exciting changes.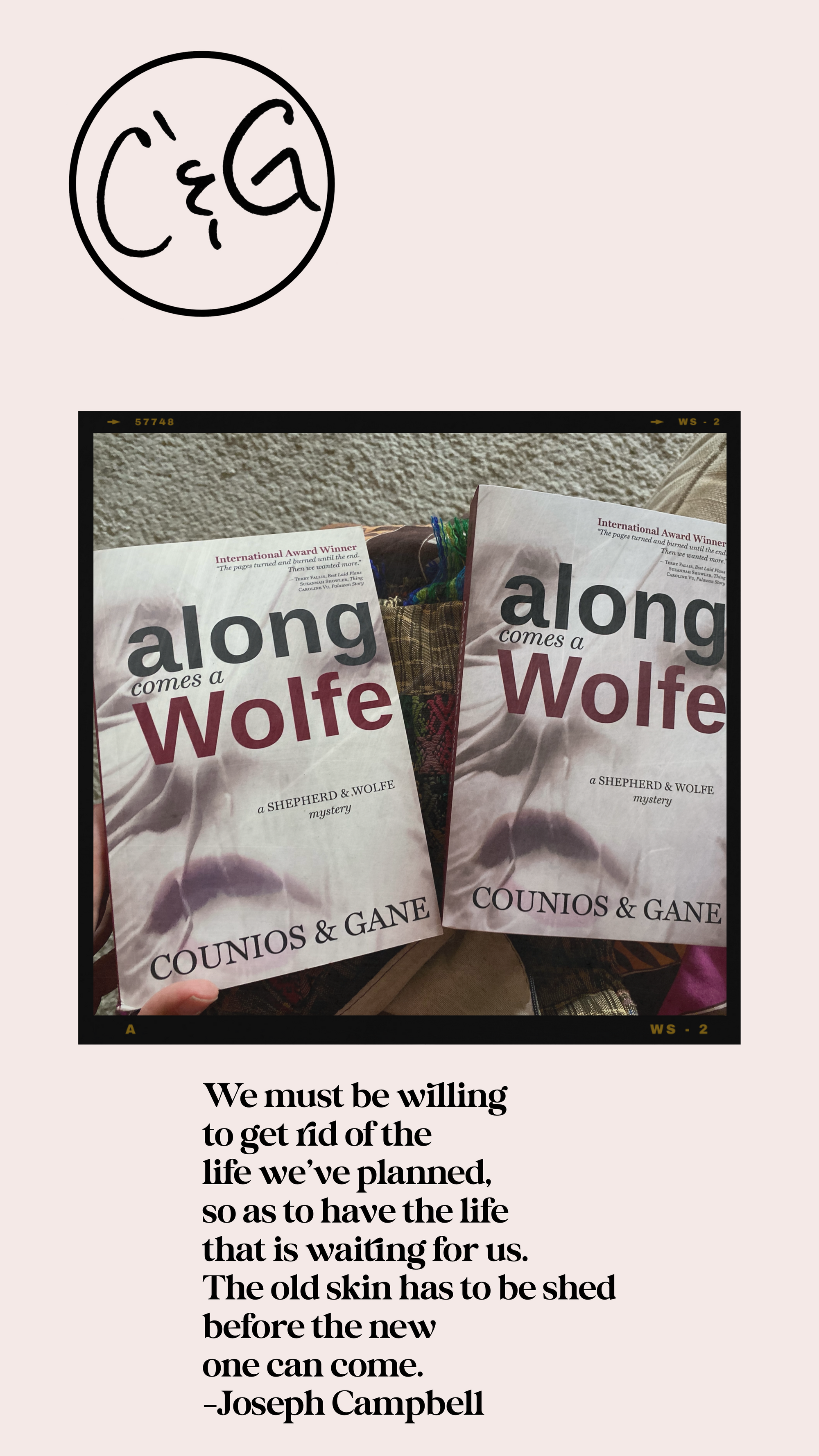 ---
Angie
I can finally have a restful sleep!
In March, David and I said we would do Print-on-Demand (POD) versions of our older books—at least the ones that were nearly out of print. It was the most financially feasible solution to printing more books.
Dave suggested we do a new cover to distinguish it from the original. This idea totally stressed me—and for the record, I'm not the one who worries in this mystery writing duo.
I was worried the new cover wouldn't jibe with the rest of the books in the series. If someone purchased one book and then the POD of another, would they look like they belonged together on the bookshelf? Would they work visually?
We played with artwork with only the murder weapon on the cover, and my cousin Jimmy did some sketches. We quickly realized that unless you knew what Along Comes a Wolfe was about, it's hard to communicate the idea of the book visually with a plastic bag.
We asked Jimmy for a lot of sketches, but we could never agree. We changed our approach and played with just using each book's title and colour. This suggestion made me feel a bit better, and we even had a version of this one printed, but David wasn't satisfied.
However, the quality of the book surprised him. Heather's design and knowledge of paper stock made the book look and feel almost like the original. Except for the cover, the original and the POD felt nearly identical.
Which made us reconsider the original cover—the white one with the face. Could we just use it—again? We made a version and had it mailed to us.
David was out of town when it arrived, so he asked me to go by his house and look at it.
I was nervous it would suck—a plain and straightforward feeling.
I opened the box, and...fell in love with it. It looked almost exactly like the original.
There are a few tiny differences, but when I look at both versions side-by-side, they are so similar. I'm so happy with it.
So after nearly five months, we are almost ready to release the POD version of our book—looking exactly the way I wanted it.
---
David
As you can see, Angie and I took the long route to return to where we started.
This journey wasn't a bad thing. We needed it to make sure we were both happy with the result. And we learned a little along the way.
So what does this move to POD mean to everyone?
First, it has us working with a company that will make it easier to ship you books.
It has always cost a lot to send books, even if you live in Canada. Getting a book to the USA was pricey, and going across the ocean was ridiculous and took a very long time to arrive.
This company, Ingram Sparks, has worldwide print centres, so it will be much cheaper and possibly a lot faster to get you our books.
The other big thing is that we are returning to Amazon and Kindle and having the opportunity to get in other stores. This means you can buy print versions and ebooks in many more places, not just our website. We won't be able to sign them, but you'll be able to find them a lot easier.
And third, we've taken on a little more responsibility. This is more for us than you, but we wanted to share. This move to Ingram Spark has us in charge of the PODs and the ebooks, which is new for us. We've always had other people helping us, so this is exciting.
So this is where things are. We still have some work to do, but we're almost there and excited to share.
---
Thank you so much for being a part of our journey.
Counios & Gane Newsletter
Join the newsletter to receive the latest updates in your inbox.
Comments